ACUUS over the years has launched several newsletters for its members. In its present form the the e-newsletter of ACUUS started in 2021 and it is issued on a monthly basis. The newsletter presents the the latest news about underground space development as well as it showcases interesting projects from around the world. Furthermore is has introduced a video section gathering videos of notable developments and also it presents the profile and characteristics of ACUUS members.
The current issue is for May 2023 and you can see it here.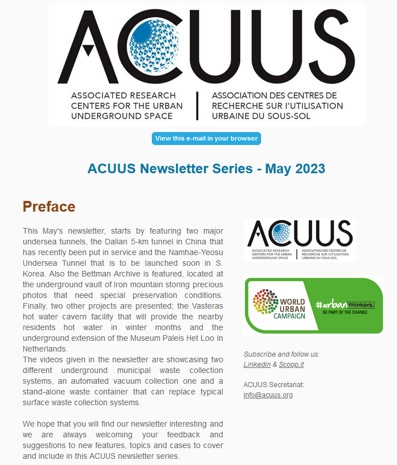 Finally, in our archive section you can find all the e-newsletters issued by ACUUS.
Newsletter Archives
Archive | ACUUS Newsletter Series 2021 | 
Sep, Oct, Nov, Dec
Archive | ACUUS Newsletter Series 2022 | 
Jan, Feb, Mar, Apr, May, Jun, Jul, Aug, Sep, Oct, Nov, Dec
Archive | ACUUS Newsletter Series 2023 | 
Jan, Feb, Mar, Apr, May
Archive | ACUUS Weekly 2016 |
Oct W1, Oct W2, Oct W3, Nov W1, Nov W2, Nov W3, Dec W1, Dec W2.
Archive | ACUUS Weekly 2017 |
Jan W1, Jan W2, Jan W3, Jan W4, Feb W1, Feb W2, Feb W3, Mar W1, Mar W2, Mar W3, Mar W4, Apr W2, Apr W3, Apr W4, May W2, May W3, May W4, Jun W1, Jun W2, Jun W3, Jun W4,  Aug W1, Aug W2, Aug W3, Aug W4, Sep W1, Sep W3, Oct W1, Oct W2, Oct W4, Nov W2, Nov W4, Dec W2.
Archive | ACUUS Weekly 2018 |
Jan W1, Jan W4, Feb W4, Mar W4, Apr W2, Apr W4, May W1, May W3, Jun W1, Jun W3, Jun W4, Aug W1, Aug W4, Sep W1, Sep W4, Oct W2, Oct W4, Nov W3, Dec W1, Dec W3.
Archive | ACUUS Weekly 2019 |
Jan W1, Jan W4, Feb W2, Mar W1, Mar W3, Apr W2, May W4, Aug W1, Aug W4, Nov W4.
Archive | ACUUS Monthly 2020 |
Jan, Feb, March, April, May, June